About Us
Your car is one of the most important things you own. It gets you to work, gets the kids to practice and takes the family on vacation. Let TF Auto Service and Sales make sure your car is running the way it should. For over 10 years Terry McEwin and Felicio Inacio were the professionals you counted on at the former Dennis Murphy Pontiac Buick GMC dealership in Cambridge to meet your automotive needs. Terry worked as the new and used vehiclemanager, eventually becoming the service manager and Felicio was the Shop Forman and held Grand Master Specialist Status. Now the pair have teamed up to open TF Auto to continue the tradition of customer care and auto service.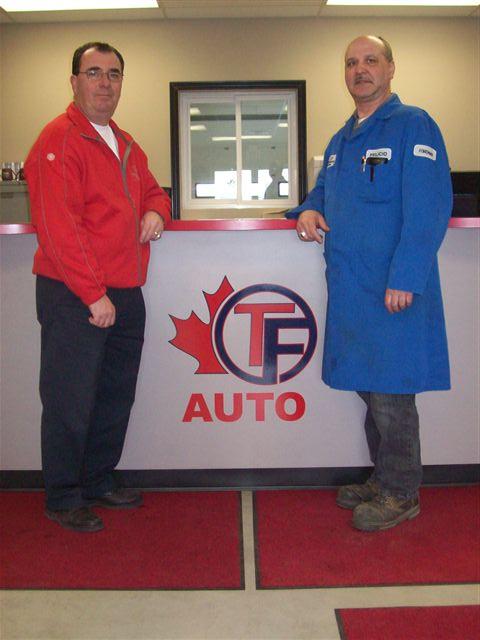 When Dennis Murphy closed following the General Motors dealer downsizing, Terry and Felicio decided to continue to provide quality service to the people of Cambridge and surrounding area. With this decision, Terry and Felicio opened a new shop just down the street from the former Dennis Murphy Pontiac building located at 2080 Eagle Street N.
Dennis Murphy himself, friends, family and former employees all worked together to convert a
former machine shop into the exciting auto service facility TF Auto has become.
In fact, seven former employees of Dennis Murphy Pontiac Buick GMC now work in customer service, management and technical positions at TF Auto.
"We are a full service and repair facility with over 140 collective years of experience. The workmanship quality is equal to a dealership level," says Terry adding that you get the friendly and excellent service of a small independent shop.

He notes one of the first priorities when they opened TF Auto was to ensure they were fully equipped with the latest technology and equipment to diagnose and repair any vehicle.
"Service is our number one priority," says Terry. "This is a high tech professional automotive service facility with fair and competitive pricing."


TF Auto Service & Sales
2080 Eagle St. N., Cambridge
519-650-5050